Member: Kevin Luedtke
Packards currently owned: 1955 Packard Caribbean convertible (MAC – White Jade-Jade-Emerald), and 1955 Packard Caribbean convertible (MJV – White Jade-Fire Opal-Onyx)
How long have you been a MCP member?
In a way, I have grown up with the club! I was a sophomore at Michigan State University in 1976-77 when I learned from Dr. Charles Blackman about the founding of a new PAC region in the Detroit area. I drove from East Lansing to several of those early meetings at the Dearborn Youth Center, and it was there that I joined the club. It wasn't until after I was elected as Assistant Executive Director of MCP for 2017 that I discovered that I was considered a Charter Member!
What drew you to Packards in the first place?
I attribute my fascination with Packards at an early age to my father's stories about them. He grew up in a time when Packards would have been very rare, and would only have belonged to the very wealthy. In our little community of East Tawas and Tawas City, Michigan, the only way he may have seen one as a child would be in a magazine ad or if someone from Detroit drove up to their summer home in the exclusive private Tawas Beach Club enclave. He imparted in me a respect for what Packards were as a prestige car, and for their engineering.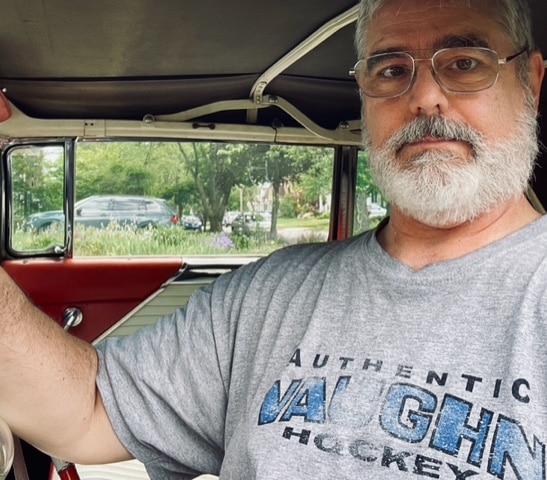 What was the first Packard you owned? What made you buy it?
At the age of 15 I saw my first 1956 Packard Caribbean, which was just a small black & white illustration in the Robert Turnquist Packard book. It was truly love at first sight. I later discovered a 1955 Four Hundred hardtop and 1955 Clipper Constellation for sale in the next town up from us, and while making plans for their possible purchase and restoration, I used the PAC directory to write to all the 1955 Packard owners in Michigan to ask if they had any sources for replacement front fenders. One of the few replies I received was from Frederick B. R. Hirsch in Detroit. He said that he had three fenders, but needed two of them himself. Or, he would include the fenders in a sale if I bought his 1955 Packard Caribbean (MAC – White Jade-Jade-Emerald) and 1955 Patrician parts car. My father and mother gave me the $500 (!), and we got a neighbor with a trailer to help haul everything back to East Tawas. Interesting fact – before Fred owned this car, it belonged to Marv King!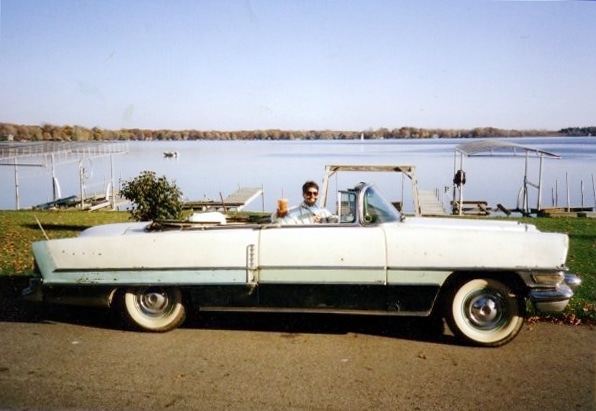 Do you have any personal or familial connection to the Packard Motor Car Company?
No, none at all. The closest family connection to Packard that we ever had was when a great-uncle of mine bought a brand-new 1957 Studebaker President two-door sedan. The dealership had previously been a Packard-Clipper store, and the serial number plate on my great-uncle's car still said "Studebaker-Packard Corp." There is also anecdotal evidence of my step-grandmother's family having owned a Packard in the 1920s in Bay City, Michigan, but she didn't really come from great wealth. Her father had some association with what was called the German-American Sugar Company, which later combined with other Thumb-area companies to form today's Michigan Sugar Co. My guess is that whatever model it was, it was either purchased as a used car, or was a Single Six. Either way, it would have been quite the car for Bay City!
What is your favorite Packard-related memory?
Wow, so many to choose from! I have to pick between attending those first MCP meetings, and riding to the Packard Plant from Romulus in 1973 in the back seat of Roscoe Stelford's 1956 Caribbean, and getting a ride in Dave Marold's freshly-restored first 1956 Caribbean. I also cherish the memories of the early days at the Packard Proving Grounds, when everything was pretty filthy and derelict, but still primarily original and intact. It was exciting to touch this history, a perfect example of what the late former Curator of Transportation at the Henry Ford Museum, Randy Mason, referred to as "preservation through neglect!"
But even more than those memories, and such things as finding my first Caribbean or driving it for the first time, I think my favorite Packard-related memory is when I was a sophomore at MSU. I was a tuba player in the Spartan Marching Band, and we had just finished a Saturday football game and marched back from the stadium to the Music Building. Tradition was that our fans would follow us back from Spartan Stadium, and the band would then fill a set of bleachers along Landon Field where we practiced, and we would replay the music from the halftime show. As a tuba player, we got relegated to the top of the bleachers (supposedly it had something to do with sound, but secretly I think some sadist just liked to see the guys with the heaviest instruments carry them all the way to the top of the bleachers after performing a halftime show and marching back to Landon Field! There is a lot to be said for being 19 or 20 years old!).
Once I reached the top corner of the bleachers that day, it suddenly hit me like a lightning bolt: someone's Gulf Green 1953 Packard Caribbean was right there in the parking area along W. Circle Drive! I wanted desperately to go check it out and see who owned it before they drove off! Unfortunately, I was not in any position to go AWOL at the moment, so I stayed with the rest of the band and played the post-game concert. All the time, I was keeping one eye trained on that green Caribbean!
Finally, after sending the fans off with a rousing finale of the MSU Fight Song, I literally bolted out of the stands and ran to the Packard, and stood resolutely next to it – tuba, band uniform, and all – until the owner came back. And when he did come back, surprisingly it was another MSU student! We talked about our respective cars for a long time and traded contact numbers, and we soon became good friends. He quickly introduced me to Dr. Charles Blackman and his unbelievable fleet of Packards. I helped both Bill and Dr. B with many Packard and non-Packard related old car projects, and made a lot of really great memories. Bill and I are still friends to this day, and he still owns that same 1953 Caribbean.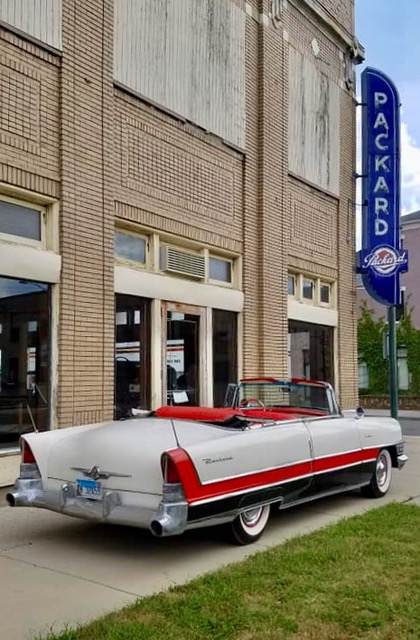 What do you get out of Packard ownership? 
I enjoy many facets of being involved with Packards, some of which don't require ownership of a Packard, but it certainly helps! I enjoy being able to possess an artifact of historical significance, not only for my favorite car company, but for the American auto industry, and for the city of Detroit. It is literally a piece of American history that helps tell the story of how a business tries to survive in postwar America, and the market and societal trends of the time. It also shows how cars were built in that era.
I enjoy being able to do basic work on a car that doesn't require a computer to decipher things. I enjoy how overbuilt almost everything is, and I appreciate how so many different part numbers (especially in the drum brakes) traced their history back to the 1935 One Twenty! And of course, you get to experience Packard fellowship in the Packard clubs – PAC and MCP. I've met so many great folks that I would never have been exposed to if it weren't for our Packards.
Assuming you don't already own it, what's your dream Packard?
Well, that's a tough question. I would love to have a 1934 Packard Twelve Dietrich Individual Custom convertible sedan, but if you allow me to conflate dream with fantasy, then I would want to own the 1956 Predictor show car! It would be as close as one could get to experiencing what was to be the 1957 Packard, except it still had the 1956 engine and chassis. The true 1957 Packards would have had a more advanced second generation of the Torsion Level suspension, and an even larger engine. A real dream would be to discover a prototype 1957 Caribbean convertible that had been hidden away since the implosion of the Packard-Clipper Division in 1956!
What do you enjoy most about being a part of MCP?
If you are a Michigan Packard enthusiast, there is really no other place to be besides MCP! Nowhere else will you be able to have such an immersive Packard experience than by being part of MCP and PAC. Like any other Packard groups, we certainly have the cars, and many of them are exquisite examples of the Marque. We also have the luck and the privilege to have proximity to the Packard Proving Grounds, and its many events and volunteer opportunities at its hallowed site. But the biggest factor that makes MCP what it is, is the people, the members. Not only do they own great cars, but they are fun, they are welcoming, and they are generous with their time and expertise in helping other Packard owners.
Plus, I hear they have a pretty cool and handsome Executive Director, ha ha ha!